"The world is a book and those who do not travel,
read only one page.".
– Saint Augustine of Hippo –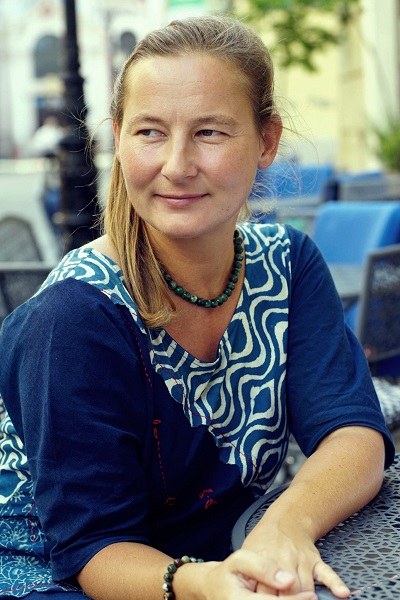 My name is Kinga Litynska and I am a graduate of Cultural Studies from the American Studies Centre in Warsaw, Poland. It has been ten years that I have been living, working and traveling around Asia, getting to know its untamed nature and discovering the exotic palette of colors and flavors that have given this diverse continent its identity.
As an ESL teacher, I do my job with commitment and pleasure because my students provide me with unforgettable experiences – the world they invite me into is an Asian cauldron of children's fantasies. With unceasing passion, on the pages of my authorial menu, I combine the homely, exotic and most bizarre ingredients to concoct my own dishes, sharing with my readers sensational stories that have spiced up an otherwise mundane job routine. After all, in China, during English classes, badminton takes over, and in the classroom, you will find not only children, but also plants, animals and even numbers! Oak, Panda, Orange, Zero – you name it. This is how parents name their little ones to appropriate them into the world of "western" culture.
A teacher by profession and a traveler by passion, I am ready to set off on a journey as long as the destination is on another continent, the path is winding and my old backpack is my sole companion. Traveling on a low budget, I have visited South Korea, Russia, Mongolia, China, Central and Southeast Asia, India and Sri Lanka, as well as the Far East. The Amber Butterfly – a Polish Literary Award for my debut book "China Beyond Belief!" – which out of 88 nominated proposals had been selected as the best travel report of 2016 – gave me wings for further expeditions and further writing. This is how Russia out of Russia was born, which in October 2018, won an award at the Festival of Media and Art, Mediatravel, in Lodz, Poland. "Russia out of Russia" is the fruit of my extensive journey around Central Asian republics, Kyrgyzstan and Kazakhstan, as well as my vagabond experiences in Russia which I traversed hitch-hiking.
Having crossed the biggest country in the world – from St. Petersburg to Kamchatka in The Far East – and visited the former Soviet Union states, I was both curious and surprised to observe how the Soviet heritage could still be found in these territories even twenty-six years after the collapse of the empire. Babushkas in head scarfs, jam-packed marshrutkas, workers' quarters, wooden Orthodox churches and other elements of Russian culture – like pieces of a history puzzle – make up the reality of Central Asian nations today.

"Russia out of Russia" constitutes an engrossing social insight into the world of Russian remains present in the former Soviet states. In this book, I take the reader on a long journey, deep into the minds of the Kyrgyz and Kazakhs, as proof that despite the ubiquitous ciut-ciut and aromatic pirożki unifying the nations, cultural distinctiveness is still alive – testimony that introducing a new, political deal will never bring an immediate change to people's mentality. Because of funny references to my first Chinese adventure, the reader will be able to see "Russia out of Russia" as a continuation of my voyage across Asia.
Have you seen people in public wearing pajamas and slippers? Men with one super long thumb nail? Did you know that boiled tap water can cure any illness you suffer from, and cake can be eaten with a plastic glove? No? In the Central State, you will be able to pitch a tent on the sidewalk, or even… inside a building, whereas at the cinema, in addition to the smell of popcorn, your nose will detect a sultry stench of nicotine.
In the Uzbek province of Kyrgyzstan, you can expect moonshine and pork sausage that will set the tone for a Muslim feast, and in Kazakhstan, on the dry, desert-covered bottom of the Aral Sea you can spread a tarp and enjoy a fish picnic since the waters have been taken away by the inept irrigation plan which dates back to the 1960's. If you have enough bravado to go as far as the Far East ends and place your foot on the volcanic peninsula, Kamchatka, a mud lake will turn out to be your bathtub, and a brown bear – your neighbor with whom you will share not only tundra thickets, but also… your fridge.

And India? What cocktail, besides magic bhang, does this inverted triangle serve? "Fair words butter no parsnips," complained my friend, Isaac. "Friends, guides, brothers and sisters all around. Empty ATMs, half-English and woolen lucky charms for a grand – ONLY. On top of that, all those Indian helicopters, national ADHD and everything same-same, but… different!
Baffled? In India, bluntness and magic intertwine, miserable becomes fascinating and your attention will be heightened by the infinity of diffused impressions. One day, someone selflessly pays for your visit to the doctor, and on another – they steal your last pair of shoes. This is India – the kingdom of Shiva, the destroyer and the creator. The land of the sacred cow which, according to its own whim, will either like you or take you by the horns. India is like poetry and prose on the pages of the Kama Sutra whose lovers have decided to follow asceticism. A multidimensional country full of contradictions. Home to Om – the cosmic, silent Absolute.
"What does not kill you, makes you stronger," said Friedrich Nietzsche. "… and what does not make you stronger, makes you numb" – this is my motto as Indian roulette will man you up on the one hand, and daze you on the other. How is it possible? You will find out reaching for my latest travel report "India – same-same, but… different".
If you crave a solid dose of real sensations and interesting encounters with native people, join me on the pages of my books and you will see that traveling not only means tourist attractions, but above all – adventure!
KINGA LITYNSKA BECOMES THE WINNER OF ARKADY FIDLER COMPETITION FOR THE AMBER BUTTERFLY – A POLISH LITERARY AWARD
---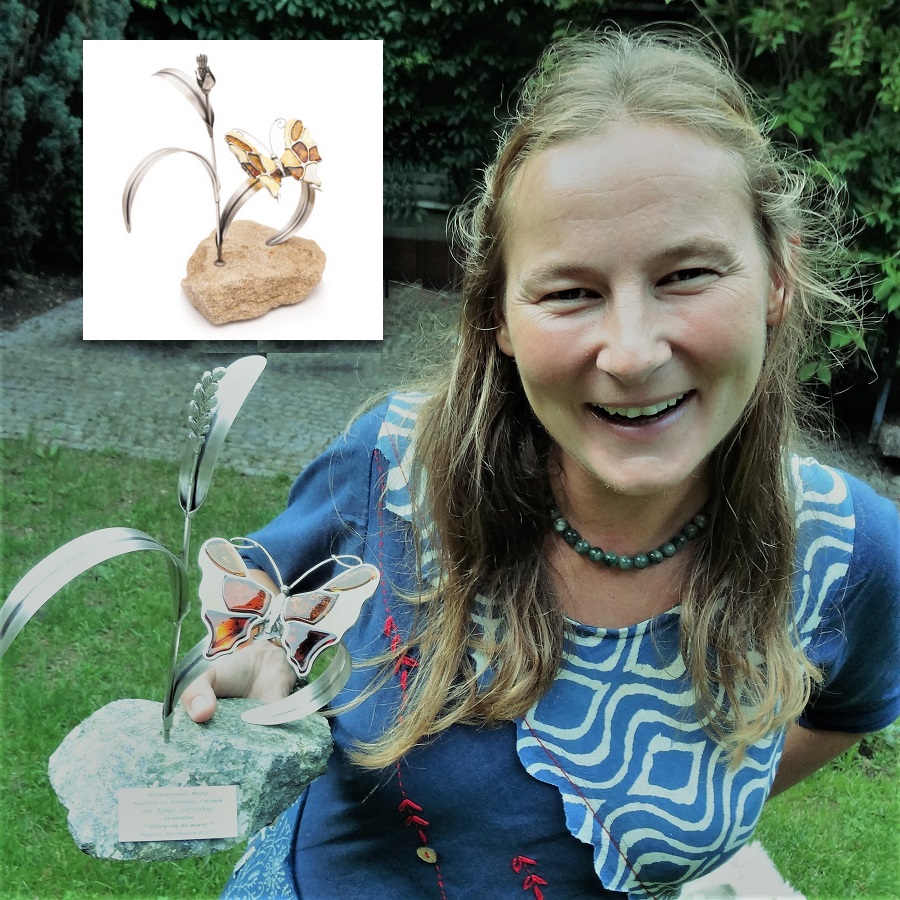 The jury chaired by Vladimir Naumczyk appreciated Kinga Litynska's travel book "China Beyond Belief!" as "a story full of lightness and humor about unknown facts and places, as well as the engrossing portrayal of customs present in culturally diverse, contemporary China." The book was published in Pelplin by Bernardinum Publishing House.
The jury selected this year's award winner from among 88 publications. Among those that won the jury's recognition were: "Piranhas for Dinner" by Mgdalena Boguz, "Travel in Mazovia" by Lechoslawa Herz, and "Leave Iceland" by Hubert Klimko-Dobrzaniecki.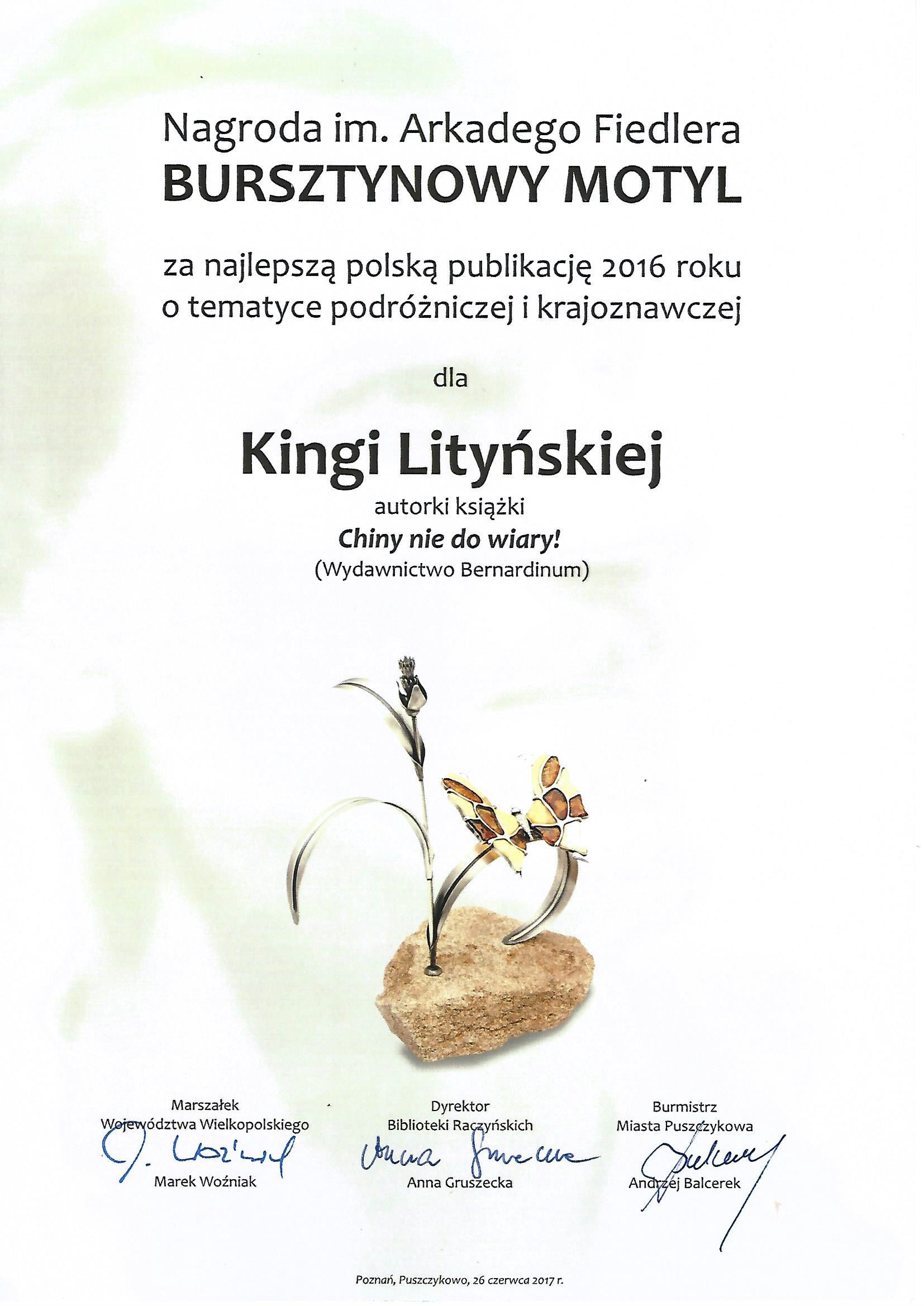 Among the previous laureates of the Amber Butterfly Award are very famous Polish travellers and explorers such as Jerzy Kukuczka, Marek Kaminski, Marcin Kydrynski, Ryszard Kapuscinski, Martyna Wojciechowska, Michal Kruszona, Wojciech Cejrowski and Beata Pawlikowska.
The initiative of annual competitions for the best travel book by a Polish author was established in 1994, during the celebration of the 100th anniversary of Arkady Fiedler's birthday. The competition was to restore the rank and importance of travel literature.
Arkady Fiedler (1894 – 1985) is one of the most remarkable Polish journalist, writer and adventurer. In his 90-year life, he travelled to Mexico, Indochina, Brazil, Madagascar, West Africa, Canada and the United States, amongst other countries. He wrote 32 books that have been translated into 23 languages and sold over 10 million copies in total. In his books, Arkady described his travels, documenting cultures, customs and natural wonders.  His most famous and popular literary works are: "Squadron 303" (about the legendary Kosciuszko fighting during the Battle of Britain), "Robinson Crusoe Island," "Orinoco," and "The River of Singing Fish." The legacy of Fiedler senior is propagated by his sons: Radoslaw and Marek. Together with their families, they run the Arkady Fiedler Museum-cum-Literary Workshop in Puszczykowo near Poznan.
---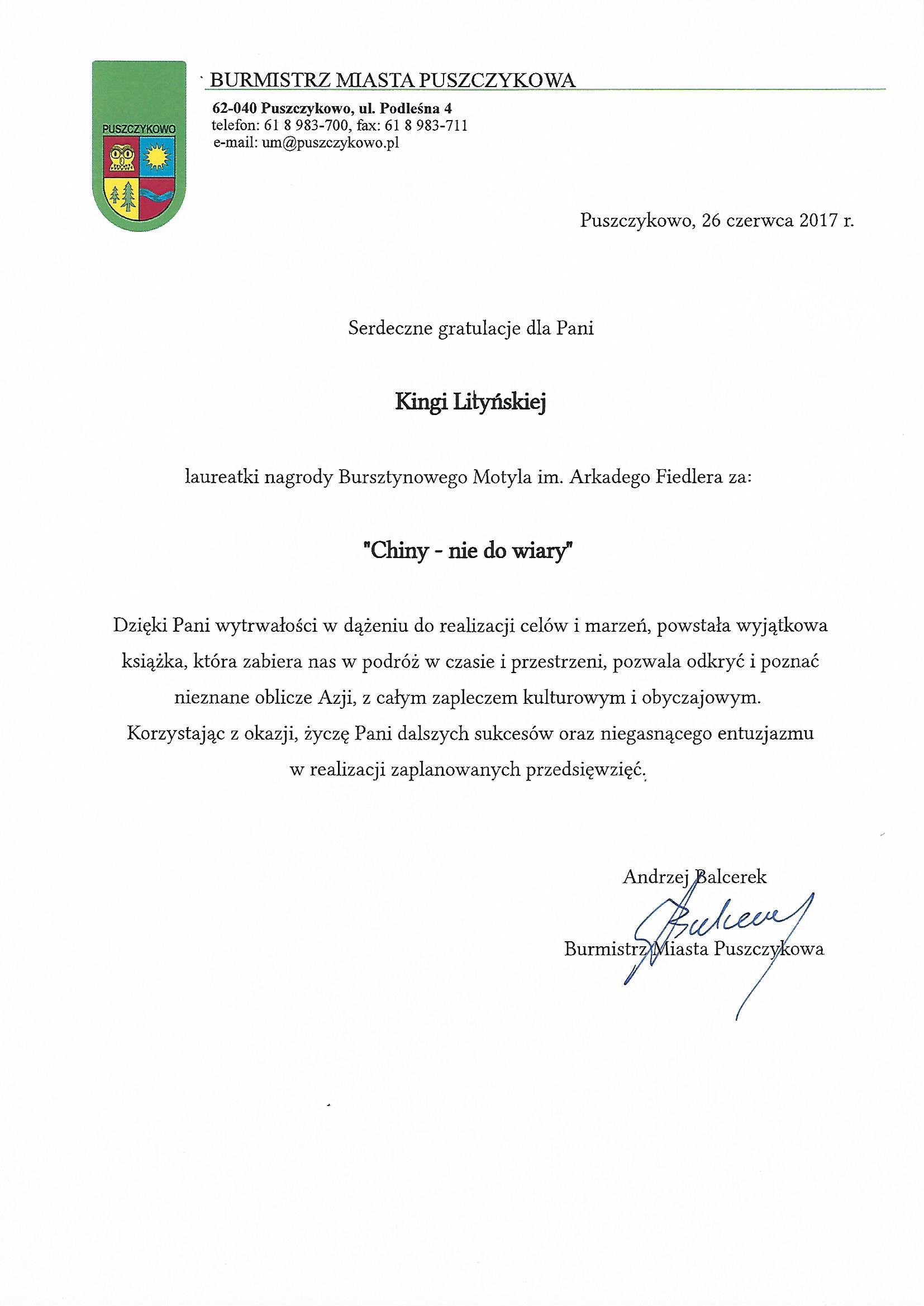 On June 26, 2017, the Amber Butterfly Award ceremony was held at the Arcady Fiedler Museum. The money prize was financed by the Marshal of Wielkopolska Province, and the Amber Butterfly statuette – designed and made by Ania Kruk – was funded by the Mayor of Puszczykowo.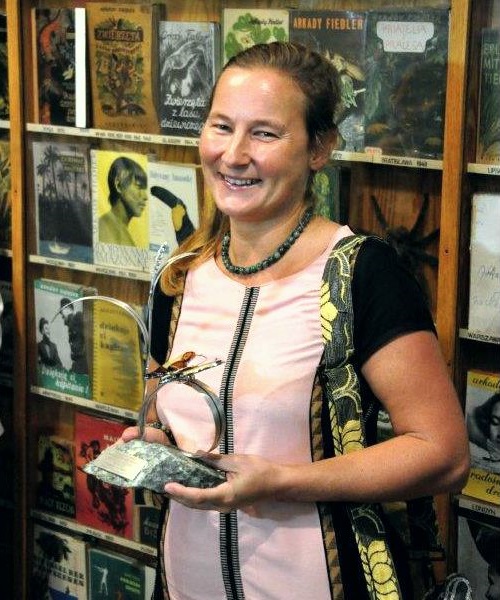 Out of 88 nominated publications, the jury decided to award Kinga Litynska's travel book "China Beyond Belief!" for its "lightness and humor with which the author describes unknown facts and places. Also, it gives an exhaustive insight into the world of habits and customs present in culturally diverse, contemporary China." The book was published in Pelplin by Bernardinum Publishing House.
"At the beginning, I wished that someone would even want to publish my book. I was glad when Bernardinum took this risk," rejoiced Kinga Litynska, a hitchhiker and a backpacker. "And now I am receiving the Amber Butterfly, and my joy knows no boundaries!"
She hitchhiked to China, and it was her first crazy journey into the unknown. Her four-year stay in the Central State resulted in a report full of brilliant observations and fascinating anecdotes thanks to which the reader gets to know the country firsthand, other than what he reads in the media. 
(Arkady Fiedler Museum – fiedler.pl)
KINGA LITYNSKA WINS THE ELDORADO AWARD IN THE COMPETITION FOR TRAVEL BOOK OF THE YEAR
---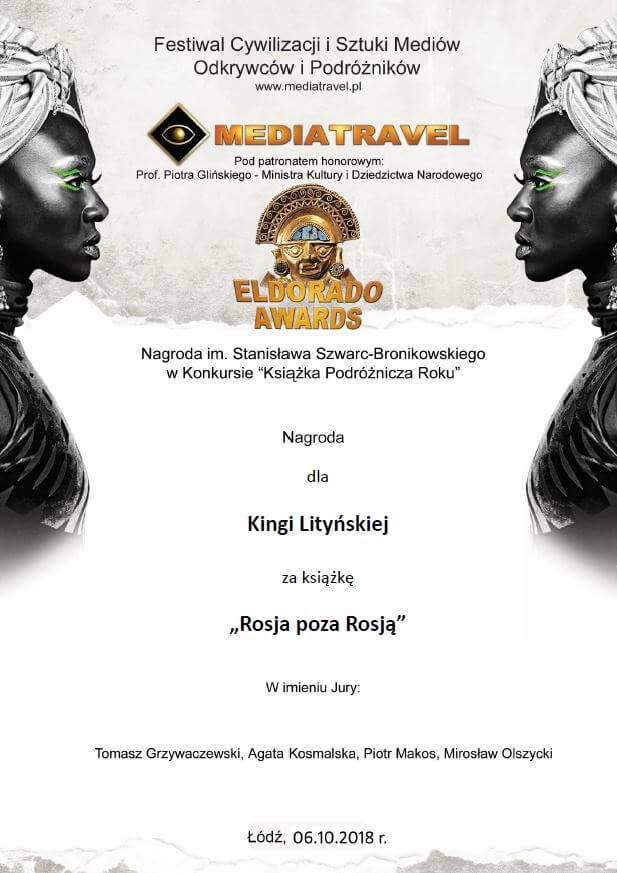 We are pleased to announce that on October 6, 2018, two books published by Bernardinum Publishing House won awards at MEDIATRAVEL – the Festival of Civilization and Media Art for Explorers and Travellers.
In the category for TRAVEL BOOK OF THE YEAR (Stanisław Szwarc-Bronikowski's ELDORADO AWARD), the following authors were honored: Kinga Lityńska for "Russia out of Russia" (2nd place) and Artur Zygmuntowicz for "Belarus – the Empire of Contrasts (3rd place).
(Bernardinum Publishing House)
MEDIA TRAVEL FESTIVAL 2018
WORLD MEDIA TRAVEL AWARDS
2nd Place
Kinga Lityńska, "Russia out of Russia," Bernardinum Publishing House.
The author takes the reader on a journey into the minds of the Kyrgyz and Kazakhs, proving that despite the similarities and ubiquitous ciut-ciut uniting both nations, cultural distinctiveness is still alive.